Network data from the NetBlocks internet observatory confirm that internet has been cut across much of Somalia with high impact to Mogadishu from 10:30 a.m. local time (7:30 a.m. UTC) on Sunday 26 July 2020. The incident is ongoing as of Sunday evening.
Real-time metrics show national connectivity levels at just 30% of ordinary levels, with most impact recorded in capital city Mogadishu. The cut remains in place as of Sunday afternoon, limiting news coverage of events.
Somalia's parliament yesterday removed prime minister Hassan Ali Khaire from his post in a vote of no confidence. 170 of 178 MPs backed the motion against Hassan Ali Khaire for failing to transition the country towards democratic elections.
The ongoing incident has nation-scale impact consistent with an intentional blackout affecting cellular and fixed-line networks, and is not attributed to any international issue, technical outage or cyber-attack. A preliminary analysis of sub-sea cable networks shows no known accidental cable cuts that could cause the disruption, which affects most, but not all, of the country's leading business and residential service providers.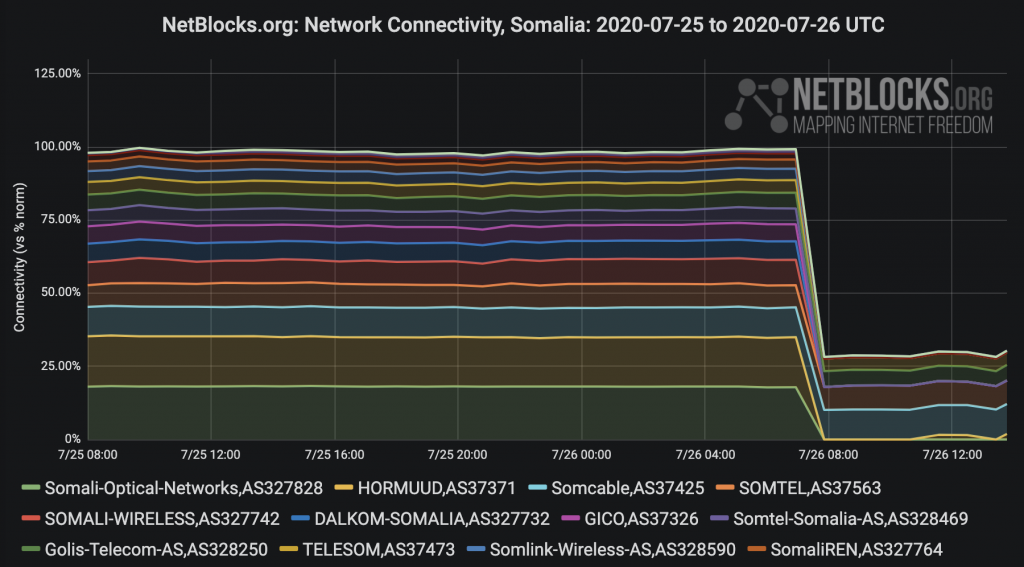 "After learning that the government had failed in its promise to prepare a clear plan that paves the way for one-person-one-vote elections in 2021 … parliament undertook a vote of no confidence against the government and its prime minister, Hassan Ali Khaire," Mohamed Mursal, the Speaker of Parliament said in a statement to the press.
Sources tell NetBlocks that the situation on the ground remains unclear due to the "unprecedented" telecommunications blackout. Somalia's internet cut follows a multi-week internet restriction in neighbouring Ethiopia. Investigations are ongoing.
Has Somalia cut internet access before?
A review of historic data shows no record of nation-scale telecommunications blackouts since systematic record-keeping began. The country has experienced outages due to cable incidents, which were attributed and reported as technical failures by NetBlocks. Additionally, a number of regional outages in the NetBlocks dataset in 2018 and 2019 are believed to be related to security operations. However, the scale and extent of the present blackout is unprecedented.
---
NetBlocks is a civil society group working at the intersection of digital rights, cyber-security and internet governance. Independent and non-partisan, NetBlocks strives for an open and inclusive digital future for all.